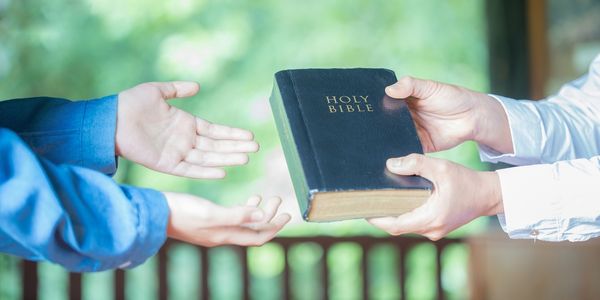 I will ponder all your work,

and meditate on your mighty deeds.

Your way, O God, is holy.

What god is great like our God? —Psalm 77:12-13
The Psalms call us to meditate on God's promise, His precepts, His wondrous works, His mighty deeds—on all that He has done. We are to meditate anytime during the day and night.
What does it mean to meditate the biblical way? Have you ever given a dog a bone and watched the bone disappear before your eyes? Some dogs are so tenacious they won't let go of the bone until it's all gone. They protect it, salivate over it, bite it, chew it. They occupy themselves with their beloved bone!
Oh, that we would be the same with the Word of God! Biblical meditation is not the emptying of the mind, as in Eastern meditation, but the understanding, the dwelling on, the filling up with God's good Word.
Many believers around the world would love the opportunity to do this. They value God's Word, though some may never have their own copy of the Scriptures. They may only have pages of the Bible or may meet "underground" with a small group of disciples to study the Bible in secret. Today, let us remember these followers of Jesus who may be called upon to give their all. Their lives are an inspiration to Christians in America who have multiple copies of the Bible at home—sitting on a shelf, rarely opened.
Will you give 7 dollars today to ensure a Christian in need in places like China, Indonesia or Mozambique receives a Bible and discipleship materials in his or her native language? You can bless 7 believers for just $49, or 20 for $140. Enter the amount you wish to give below to support our ongoing international outreach efforts with your tax-deductible gift today. For monthly giving, select the option "I would like to make this a recurring donation" on the checkout page.
Your generous support is greatly appreciated. This outreach is part of our ongoing efforts to work with Christ-centered relief organizations to meet critical needs wherever Christians are under threat. Will you please stand with them today?
Thank you!

Mat Staver


Liberty Relief International is a 501(c)(3), tax-exempt nonprofit organization. Contributions are tax deductible to the extent permitted by law.