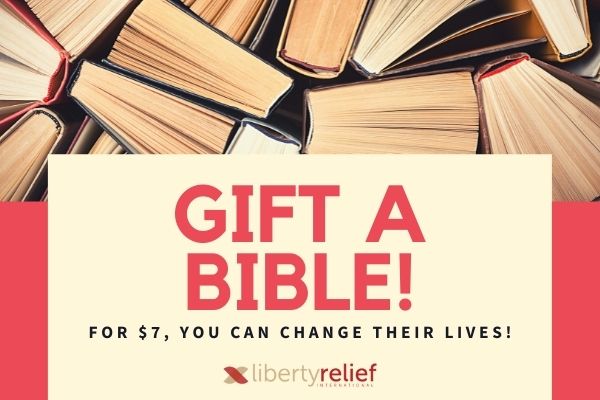 It is estimated that 20 million Bibles are sold in America each year. Not only can we choose between many translations, but we can also choose from different languages, print sizes, study versions, formats, and the list continues—and that is just the print version! We also have digital formats in numerous translations right at our fingertips.
In contrast, in some countries, it is not only difficult to obtain a Bible, but it is illegal.
Believers in these countries long for their own copy of the Word of God—to study and learn, to be encouraged and find strength to continue standing for Christ in the face of persecution.
Will you provide them with a Bible today?

Every gift of 7 dollars will make a Bible as well as discipleship materials available to a seeker or Christian living in a persecuted nation of the world.




Liberty Relief International is a 501(c)(3), tax-exempt nonprofit organization. Contributions are tax-deductible to the extent permitted by law.