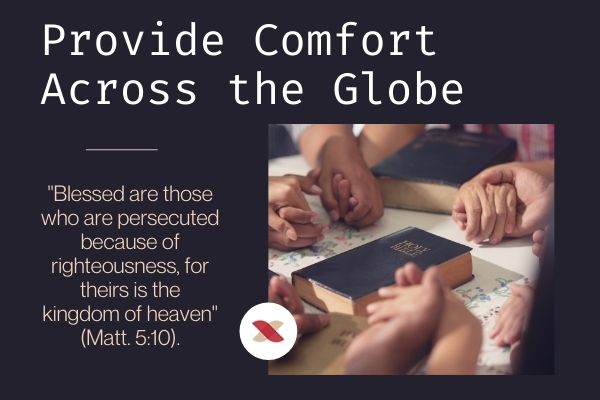 For millions of persecuted believers around the globe, "suffering" is a way of life. But there is a way for you to give them comfort even across the globe—God's Word. The Bible is a source of truth and life and provides comfort.
"Everyone who wants to live a godly life in Christ Jesus will be persecuted" (2 Tim. 3:12)
"If they persecuted me, they will persecute you also," Jesus says in John 15:20.
"Blessed are those who are persecuted because of righteousness, for theirs is the kingdom of heaven" (Matt. 5:10).
"That is why, for Christ's sake, I delight in weaknesses, in insults, in hardships, in persecutions, in difficulties. For when I am weak, then I am strong" (2 Cor. 12:10).
Will you send comfort today?
A gift of just $7 provides a Bible and discipleship materials for a persecuted Christian in his or her native language.

Thank you for your prayers and support!

*Representative names and photos for security reasons.