"Blessed are those who are persecuted for righteousness' sake, for theirs is the kingdom of heaven." —Matthew 5:10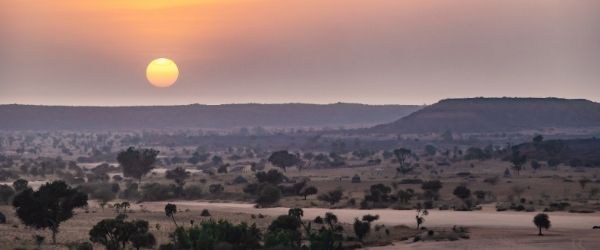 Radical Islamic terror is growing in the North African region known as the Sahel—a belt that stretches from the Atlantic Ocean to the Red Sea and transitions between the Sahara on the north and the great savannas on the south.
International Christian Concern says the influence of ISIS is spreading across several countries, and that a recent study of the area points to two truths:
It seems ISIS headquarters "in the Middle East gives direct orders to at least some of its affiliates in Africa—something that suggests authority and command rather than simple ideological alignment."

"Second, terrorist activity in the Sahel indicates that IS[IS] and al-Qaeda are aligning, at least regionally, despite fighting each other in the Middle East. Such a union could be dangerous for the global fight against terror as it would mean the joining together of the world's two most dangerous terrorist organizations."
Bottom line: Christians living in Sahel nations—Senegal, Nigeria, Niger, Mali, Chad, Cameroon, Burkina Faso and others—need immediate prayer and support.
You've read about terror's destruction in Nigeria: believers murdered, pastors kidnapped and killed, villages raided, farms destroyed, homes and churches burned. The horrific headlines pour out of this #9 country on the Open Doors World Watch List at a heartbreaking pace.
But we are called to help persecuted believers in the Sahel. Called to love. Called to see our brothers and sisters, religious minorities and others through Christ's eyes.
We must be His hands and feet.

We must act with compassion.

The growing radical threat must not be ignored simply because it's happening on a different continent, an ocean away.
Will you stand with Liberty Relief International today, in this moment, to ease the suffering Christians are facing?
The crisis—the violence—the fear—is unimaginable.

Your tax-deductible donation today will provide physical, emotional and spiritual support to brothers and sisters in the Sahel and beyond.
Our Christ-centered partners on the ground distribute emergency food, water and shelter for persecuted believers in desperate need of practical, tangible assistance.
Plus, through your generosity, our partners also offer:
Trauma counseling, literacy training and even job training for people starting over...

Help in rebuilding churches and homes that have been destroyed...

Bibles, Bible study materials and discipleship training.

Please give today...and join us in praying for those at risk of losing their lives for their faith.
Thank you, with sincere gratitude,
Mat Staver


Liberty Relief International is a 501(c)(3), tax-exempt nonprofit organization. Contributions are tax-deductible to the extent permitted by law.
*Representative names and photos used for security reasons.