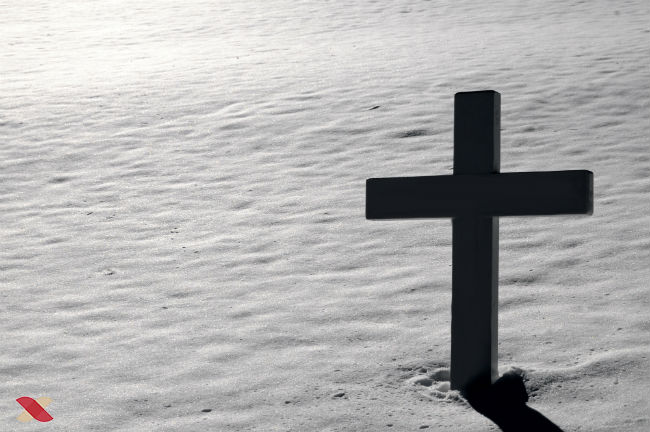 As violent persecution of Christians escalates in Africa, Asia and the Middle East--Liberty Relief International is responding by calling for urgent prayer and providing humanitarian aid including vital food survival kits, safe houses, trauma counseling, legal help, Bibles and much more. Will you help care for our persecuted family with a gift of any amount today? -Mat

Imagine standing in the parking lot of your church on Sunday, casually talking with friends about the message and deciding where to take the family for lunch—when suddenly a dozen armed men on motorcycles surround you. The gunmen force you, your family and friends to gather under a tree. They confiscate your Bibles and cell phones and demand that you deny Jesus and convert to Islam or die.
What would you do?
Six fellow believers faced that terrifying scenario on April 28 at a small Assemblies of God church in Sirgadji, Burkina Faso. Five congregants and their 80-year old pastor bravely refused to deny our Lord. One by one they were mercilessly shot and killed for their faith by the gang of Islamic militants. Locals said the gunmen came back the next day "looking for more Christians."
…And on May 12, gunmen on motorcycles stormed a Catholic church in Dablo, Burkina Faso, during mass and brutally shot down the priest and six congregants.
…And on May 13, gunmen killed four Catholics who were participating in a religious procession in northern Burkina Faso.
Burkina Faso was once a relatively safe place to live. One of our own staff remembers living there as a child when her parents served there as missionaries.
Today, our partners on the ground in that region that "over the past two years, attacks by Islamist militants, military operations, and waves of inter-communal violence have left hundreds dead and 135,000 displaced, triggering [...] an 'unprecedented humanitarian crisis' that has caught many by surprise."
A report from the Armed Conflict Location and Event Data Project indicates, "Reported fatalities from attacks targeting civilians have risen by 300 percent in Mali, 500 percent in Niger, and a staggering 7,000 percent in Burkina Faso compared to the same period last year."
Violent persecution of our brothers and sisters in Christ has increased dramatically in recent weeks--with serious warnings of more attacks to come. Some are beginning to call this level of persecution exactly what it is--"modern-day genocide."
LRI is committed to helping persecuted Christians and others suffering under oppression and brutality around the world. Our goal is to be the hands and feet of Jesus as we help facilitate the delivery and distribution of humanitarian supplies through our Christ-centered partners on the ground in areas with urgent and desperate needs.
Will you help us care for these fellow believers who are being targeted for their faith today?
Your tax-deductible gift will help Christians in these hardest hit regions and most at risk from violence, torture, kidnapping, rape or even death.
Please don't wait. Your gift of 50, 100, 500 dollars or more will be used right away to minister to the urgent needs of persecuted Christians and others in unbelievably desperate situations.

Scripture reminds us that, "there should be no schism in the body, but that the members should have the same care for one another. And if one member suffers, all the members suffer with it..." (1 Cor. 12:25-26). Thank you for standing with LRI to pray for and care for our hurting brethren throughout the Middle East, northern Africa, Asia and the world.
Please remember to pray for our Christian family facing such suffering and persecution in these regions.
God bless you,

Mat Staver
Chairman


P.S. Please help LRI minister to the urgent needs of persecuted Christians and others in unbelievably desperate situations with your generous gift today.